They want us to believe Emergency rooms are being WALLOPED, yet this is FAR from the TRUTH – We ARE Exposing the Madness of a Pandemic IN THIS ARTICLE. after reading what they say, look at the REAL truth here.
Related
Here is The Difference Between the Common cold and Omicron…,
This is what they say: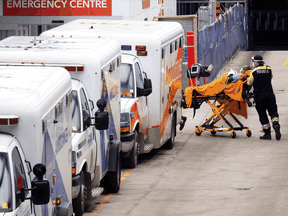 Some Canadian emergency rooms are being walloped by "ridiculous" numbers of people with suspected or confirmed COVID, with symptoms ranging from what essentially resembles a mild cold to, in the unvaccinated and vulnerable, severe COVID cases of pneumonia, frontline doctors are reporting.
Some are arriving in hospital with minimal symptoms, driven there instead by anxiety or a desire to confirm their COVID status, and with having had no clearly communicated advice on what to do if they do get COVID.
Omicron: What you need to know
"We are still catastrophizing COVID," said Dr. Martha Fulford, an infectious diseases specialist and chief of medicine at the McMaster University Medical Center. "We have somehow made when you have a positive result equal disaster in a lot of people's minds."
Source By Sharon Kirkey Publishing date: Jan 06, 2022
We need your help to continue to post news that matters...You can support our efforts by buying us a coffee... It's quick, secure, and easy. https://gogetfunding.com/realnewscast/